One of the true innovative visionaries in the world of hip-hop has passed. Even Grant Morrison couldn't concoct a character as wild and inspirational as
Rammellzee
!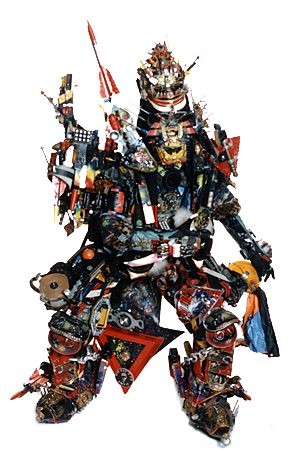 Rammellzee was heavily involved in both the music and art side of rap culture from the beginning. He appeared performing his influential hit "
Beat Bop
" in the classic
Wild Style
in 1982. He worked with Jim Jarmusch, he wrote graf on NY subway trains in the late 70s, he performed in different costumes under different aliases (above), his art and sculpture was shown all around the world, he developed a new mode called Gothic Futurism ("which describes the battle between letters and their symbolic warfare against any standardizations enforced by the rules of the alphabet" - from his
Wiki page
) and was working on something he called "Ikonoklast Panzerism". If you want to know more (and you really should) check out his
Gothic Futurism website
and prepare to be amazed.
Rammellzee is the true spirit of hip-hop, as far from the corpoate-cock-sucking, diamond-wearing a-political bling hos we're fed nowadays as possible. He will be missed!