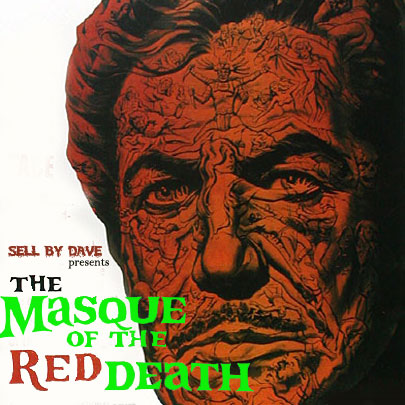 Loving this - reminds me of what the Orb were up to in the late 80s and very early 90s, but with an old school Hammer horror twist. Not that I was at the original Orb parties mind, I've just read about the times they would play music, sound effects, film snippets and the like and jam over it with machines.
Anyway, here is Sell By Dave's own words on this project:
"I'm going to give the people what they want…sensation, horror, shock… send them out into the streets to tell their friends how wonderful it is to be scared to death" - Vincent Price, House of Wax
In the autumn of 2010, I was asked by Caravan Records boss October and Idle Hands mainman Chris Farrell whether I would like to do a DJ set with a twist - performing a new soundtrack to a film of my choice, which would be screened in the backroom of the Timbuk2 club in Bristol. I thought it was a great idea, and chose The Masque Of The Red Death, Roger Corman's 1960s version of the Edgar Allan Poe story of the same name.
I was inspired by the opportunity of providing a new soundtrack, but wanted the music and visuals to work perfectly in sync. I didn't want it to just be "some records over a film". So, I painstakingly edited each track to fit scenes, added sound effects, layered things up, captured speech from the original film, and so on. It was a laborious process, but on the night – when I mixed it all live, in time with the film, it worked wonderfully. The next day, I sat down and recorded a studio version of the mix, which was then edited down again in time with the film.
Hopefully one day there will be a DVD version, with the new soundtrack on top of the original film, but for now take a listen to the audio - it took a long time to put together. As the original film is pretty trippy, this soundtrack is, too. And it features the Monkees "in dub hell", as a friend of mine put it.
Enjoy."
We will!
SELL BY DAVE presents THE MASQUE OF THE RED DEATH RE-TOLD // NOVEMBER 2010 by SellByDave