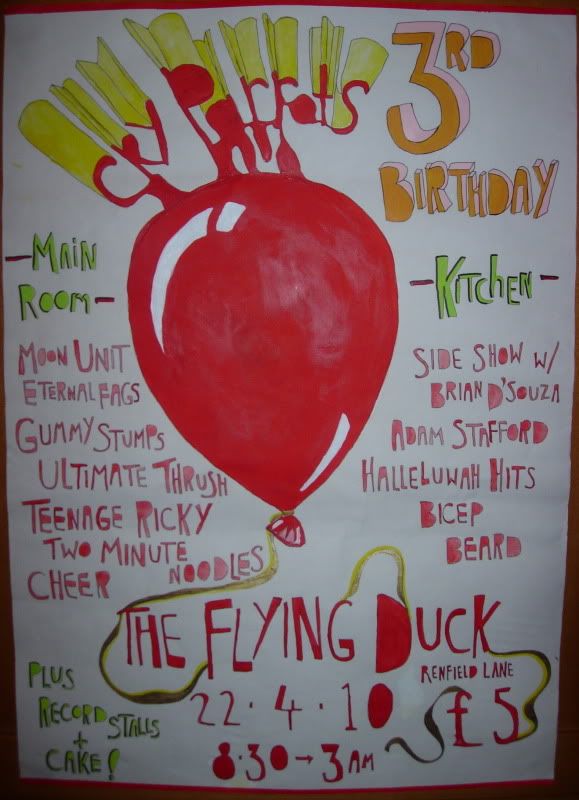 Last night saw the third birthday bash of one of our favourite local gig promoters,
CRY PARROT
.
These guys have been putting on DIY gigs for three years and have put on some amazing shows. We could do a list of all the bands they have put on, but they've done that already and you can see it
here
. It would take all day to list them, but suffice to say that 8 of the acts on FUCKNO have played for them, so you know they've got good taste.
They have not one but TWO free compilation albums available for download through our other local favourites
Winning Sperm Party
, which you really should get. To make it as easy as possible, here are the direct download links:
Compilation 1
Compilation 2
Happy Birthday guys, and here's to many more years of great gigs!
LRxxx
And ach, seeing as we're such slags for name dropping, here's a list of who's been on the Cry Parrot stages (though I reckon this needs an update): the ex & brass unbound, john maus, lovvers, quack quack, zu, chin up chin up, vars of litchi, gay against you, pocahaunted, sun araw, plaaydoh, triple school, clorinde, cleckhuddersfax, marble valley (feat steve west from pavement), gary war, blue sabbath black fiji, bird names, dam mantle, tattie zones, zun zun egui, sun araw, divorce, ultimate thrush, copy haho, divorce, tickley feather, wounded knee, moha!, cheveu, action beat, poltergroom, stig noise soundsystem, beards, blues control, tropa macaca, household, tiny little hearts, remember remember, viking moses, pvh, katie stelmanis, yoko oh no!, my kappa roots, rm hubbert, nackt insecten, golden ghost, destructo swarmbots, noma, kylie minoise, ballad of mable wong, louts, streets of rage, adebisi shank, mr peppermint, y'all is fantasy island, fox gut daata, trees, an emergency, grozny.