The teutonic marching music of
Ancient Methods
was a cobweb-clearing sonic blast last night in
La Cheetah
. It was enthusiatically recieved, showing again that Glasgow crowds not only love techno, but they love techno that pushes the art forward.
Supported by one of the most versatile DJs in the city -
Domenic Cappello
- those industrial sculptures of martial motion are book-ended by a performance that far surpasses anything I have ever heard from Cappello before. Away from his ancestral home of
Subclub
, he is as comfortable as I have ever seen him. I recognise less than half of what he plays, and I love almost every single track. Not only does he know what I like, but he know what I
should
like. As the crowd begins to swell, so the pace rises. As we approach the end of his set, the dance floor is all but everyone.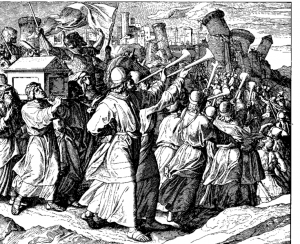 Ancient Methods
, however, is something else. The live set is delivered with an occasional grin (and at least one hail satan) and is everything I had expected from one of the most exciting producers in the genre. The rhythm is complex, and the pulse is insistent; whenever it breaks down, the hairs on the back of your neck stand up, anticipating the return of that hypnotic beat. The unrelenting drive of the Ancient Methods sound occasionaly inhales, but that is all the respite that comes in well over an hour of beautifully crafted brutality.
Despite having been described as '
pitch black techno war funk
', the unassuming genius behind it all tells us he isn't really a fan of funk... So does that mean it's just pitch black techno war? I'm not sure he'd say so himself, but after that performance I'm not sure I'd ride into battle with anything else on the stereo.
Promoted by forward thinking techno purists
Resurface Records
, I can only hope there is more to come.