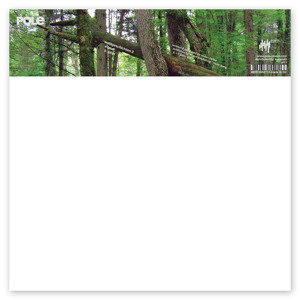 Pole - Waldesgeschichten 2, Dec 5th
I was pretty excited by Pole's
first release
on his new label, and enthused about the new ideas he's been working with, so it's pleasing to see him gather momentum with the follow up 12". Warm and resonant subs underpin Pole's trademark glitchy sound and shuffling, rootsy structures, fusing the best of techno and dub with the kind of syncopations more often seen in the work of Headhunter, 2562 and Martyn. There's a far more distinct sense of narrative to
Aue
and
Pirol
than exhibited on the first
Waldesgeschichten
, with more evident build ups and breakdowns, despite being built around long, evolving loops. Equally, the tension between
Aue
's solid, bass-driven repetitiveness, and off-kilter two-step bounce of
Pirol
gives the EP a sense of structure with it's contrasting styles.
Continuing in the same Romantic vein as the first EP, the track titles are drawn from natural imagery - Pirol is a vibrant yellow songbird, whilst Aue roughly translates as grassland - and channel the same sense of vitality and organic growth. Betke's work has often focused on the mechanistic, fetishising technology and searching for the ghosts in the machine, but this change in direction is a welcome refresher, without losing sight of what make his work so special.
A-Aue-Excerpt by pole original
B Pirol-Excerpt by pole original
Pole plays the following dates in December, if anyone wants to buy me a ticket to Berlin...
09.12.11 Santiago (CL) - Mutek Chile Festival
12.12.11 Montevideo (UY) - SOCO Festival
04.02.12 Berlin - CTM Festival