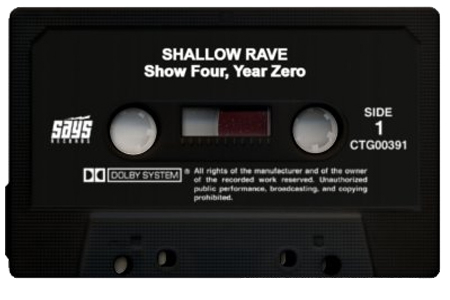 NOW AVAILABLE ON SOUNDCLOUD AS A 320KB MP3!
Radio Magnetic
are proud to present the
Shallow Rave
podcast, bringing together members from
Black Lantern Music
, Little Rock Records (currently on hiatus) and a number of other projects. With a heavy focus on experimental and Net Audio releases, Shallow Rave covers everything from hip-hop and experimental music to dub and straight-up techno.
Their first for Radio Magnetic, and fourth experiment so far, this episode features a guest mix of stately dark electro and dream-pop from hip-hop witch house producer
BL▲CK CEILING
(Aural Sects / I Had An Accident / Phantasma Disques), and an extensive interview with Scottish hip-hop legend
Loki
who talks about his work with Volition, an organisation using rap to transform the lives of young Scottish people, upstaging Shakespeare and his experiences in the battle rap scene.
PART 1
With Loki live in session
Death Grips – I've Seen Footage – [
thridworlds.net
]
Loki – Malady - [
Volition Scotland
]
mmpsuf – The Sailors - [
mmpsuf.lt
]
808 State – Quincy's Lunch (Testa) - [
808state.com
]
Gravediggaz – Today's Mathematics – [ Empire / BMG ]
Verseomega – Killface Feat. Loki (live) - [
verseomega
]
Gasp – Boy Meets Girl - [
gasp.bandcamp.com
]
Loki – Wall of Silence - [
Volition Scotland
]
Spell Hound – I Challenge You - [
auralsects.bandcamp.com
]
Deadbeat & Dannel Tate – Lazy Jane - [ BLKRTZ ]
Mungo's Hi-Fi – Indian Sun - [
www.scotchbonnet.net
]
Nina Kraviz – Ghetto Kraviz - [ Rekids ]
Bass Clef – Hackney-Chicago-Jupiter - [ Punch Drunk ]
For more info on Volition, Loki himself, and the work he does in the Scottish hip-hop scene, visit:
www.volition-scotland.org
PART 2
BL▲CK CEILING – CHLOROPHYLL MIX
Desire – Part II
White Ring – Eternia
Cosmetics – Soft Skin
L.A. Vampires – Instrumental
Geneva Jacuzzi – Clothes On The Bed
V O I D – Beta tape Warp
Stoned Boys – Ship Of Bones
Clark – Future Daniel
S. Maharba – Pianomouth
PART 3
Outro
Ghūl - Stonewish [ CDR ]
Asakusa Jinta – Teppen [
Asakusa Jinta
]
Death Grips - Get Got [
thirdworlds.net
]