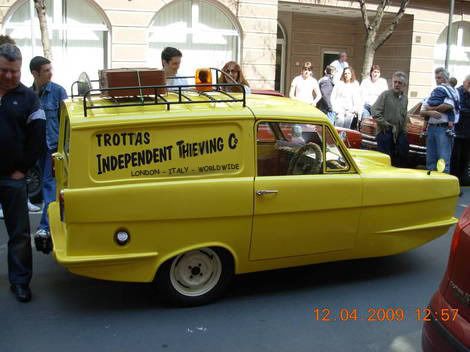 Yep, this is a fact - this thieving turd is making a name for himself by using tracks released by other producers renamed and re-sold as "his own", and in the process getting some high profile gigs like a support for Umek at Amnesia. Things came to light when producer
Hefty
realised Trotta had taken his free download "The Mothership", renamed it "Atomizer" and was selling it on Beatport as part of an EP on the label
Futura
.
Some links, via
Chapter24
:
ORIGINAL FREE DL by HEFTY :
http://soundcloud.com/hefty/hefty-the-mothership
Stolen and released by Trotta >>>>> DONT BUY IT :
http://www.beatport.com/track/atomizer-original-mix/3123654
If you wanna leave your feelings,DJ VIKTOR TROTTA PAGE :
https://www.facebook.com/group.php?gid=93311550736
Hefty has given an interview with
Techno FM
speaking about the theft:
BEN: So once you found out that this was for real then what did you do? ... and how do you feel about what has happened here - both from a monitory perspective and an artistic perspective? (both being completely different angles) ...and which of the perspectives is the most important so you think?

HEFTY: hey ok so, When I found out about all this, the first thing I did was contact Mr Trotta basically asking "WTF" he was doing releasing one of my FREE tracks. Then I contacted Beatport to tell them about the issue. I received a reply which wasn't really satisfactory, though I'm not sure if they understood the problem. The tracks were only removed after the label contacted Beatport....

Regarding how I feel about this, well I went through a few emotions really, starting with annoyance and ending in amazement at the sheer audacity of the guy. It's definitely not about the money as we all know that royalties from releases are not going to make you rich, so it was definitely about the artistic/principle angle that I was more concerned with. I gave that track away for free as a celebration for reaching 3000 followers on Soundcloud, so it was also a personal "slap in the face" also.

So I decided to do the mature thing and knock up a photo shopped photo of him and stick it on my facebook wall, just to vent some of my anger, expecting a few "OMG" type comments, but it spread across facebook and twitter (and various other online platforms) like wildfire. It started to emerge that this guy had done this to other producers both in the past and on the very same EP as my free track, and many people were really angry about what this guy was up to. He had 50+ tracks on Beatport, so who knows how many were not his own, it's strange that his Soundcloud page was empty if he had released so much stuff. As more people investigated this guy it turns out he has various pretty high profile gigs coming up, which incensed folk even more.
But the plot thickens - turns out it's more than just Hefty whose music Trotta has stolen. Producer Rowan O'Neill says
(on Hefty's Facebook wall)
"he has stolen from at least 4 folk living in the Glasgow area". WTF?!
Needless to say this fucking sucks and this douche needs to be kicked to the kerb - his Amnesia gig has been cancelled, but his artist profile still exists at
Beatport
and
Juno
. EH? Do they know he is selling music that is not his own? And why bother paying money for it when it was released free in the first place?
Here's Hefty's original free download of "The Mothership":
Hefty - The Mothership - HQ FREE DOWNLOAD - (3000 Follwers!!! Thanks!) by HEFTY