I went to see
Chris Morris
' Four Lions last night - it may not be perfect but I highly recommend it. I've been a huge fan of Morris' work since discovering
Blue Jam
on Radio One one night after May Anne Hobbs'
Breezeblock
show (perhaps even the one where Primal Scream did a mix), and later getting addicted to
The Day Today
(still my favourite comedy show ever). People have certain expectations of Morris' work now, as he has become known for a taboo-breaking, deliriously close-to-the-bone satyrical comedy style, and I have read some initial reactions to Four Lions that claim it is lacking in that department. Well, yes, it's not as radical, or no-holds-barred as
Brasseye
, but then I don't think it needs to be really. The basic premise of people bombing themselves and innocent civilians is dark enough, and even then the film is still uproariously funny.
Like I said above though, it's not perfect. Certain scenes are lacking a coherent context (some of the domestic scenes mainly) which puts them at odds with the rest of the film. Whether this is deliberate or not, I personally would have liked to have known more about the motivations of this motley bunch of bombers, and why exactly they are willing to give up comfortable domesticity for the life of a martyr. However the rest of the film does stand up, with some genuinely hilarious and subversive moments, and it is carried by some excellent performances by the leads.
I think this is a film that will reward multiple viewings, as it really did seem to be a laugh a minute, and there are some choice catchphrases in there too ("Fuck mini Baby Bells!" "Rubber Dinghy Rapids"), but it is also surprisingly touching. We really grow to care about these characters, which is surprising, considering what their aims are. I think a lot of folk might be put off by this, and expect something much more harsh and brutal from Morris. But at the end of the day, it still raised very valid questions in the viewer's mind while raising some deep and dark belly laughs.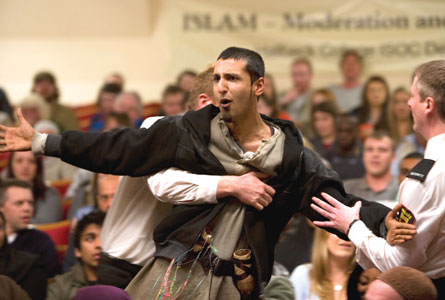 Chris Morris & Four Lions Cast Q&A
Chris Morris interviewed by the Independant
Four LIons review at the Telegraph
Loads more videos about Four Lions here.